Key Details
In Numbers
Duration: 84 weeks
Value: £39.75m
Size: 210,000 sq. ft
Practical completion date: July 2022
The Collaborators
Building owner: CBRE Investment Management
Project management: Venture, Workman Project Management
Asset manager: Thamesis Asset Management
Architect: Associated Architects
Construction: Wilmott Dixon
Project Introduction
Status: Live
On behalf of CBRE Investment Management, Venture is project managing the £39.75m transformation of 10 Brindleyplace – Birmingham's largest office refurbishment scheme.
The redevelopment scheme combines buildings 8 and 10 Brindleyplace into one building, and will see the creation of 210,000 sq. ft of high-quality grade A office space, with one of Birmingham's largest-available office floorplates, at more than 27,000 sq. ft.
With a strong emphasis on sustainable design and occupier wellness, the building will meet Net Zero targets and achieve a BREEAM rating of Excellent.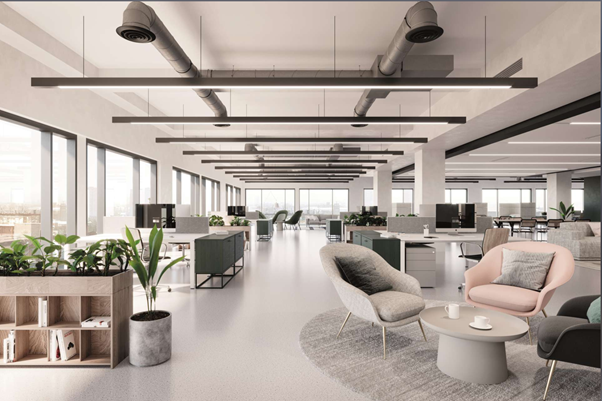 Project Update
Oct 13, 2021
A healthy occupier proposition
Health and wellbeing is becoming increasingly important to discerning occupiers. At 10 Brindleyplace, occupier amenities include an on-site café, fitness facilities including a fitness studio and bouldering wall, cycle storage for 100 bicycles, electric vehicle charging and two communal roof terraces.
As one of the first Fitwel-certified buildings in Birmingham, 10 Brindleyplace will support health and wellbeing in the workplace.
Project Update
Nov 10, 2021
Green behavioural change
The new 10 Brindleyplace aims to decarbonise its occupiers transport habits by delivering 100 cycle spaces, with dedicated cycle entrance, showers, lockers, and drying rooms. Research shows that replacing 100 car journey commuters with 100 cycle commuters reduces car miles equivalent to three laps around the planet each year.
To encourage occupiers' employees to spend more time outside, the building features green roofs, terraces, and landscaped open spaces, supporting both biodiversity and wellbeing.
There are also 24 electric vehicle charging bays, which could save the equivalent CO2 of 74 double decker buses per year, if used by 24 electric vehicle drivers who would otherwise have travelled in petrol or diesel vehicles.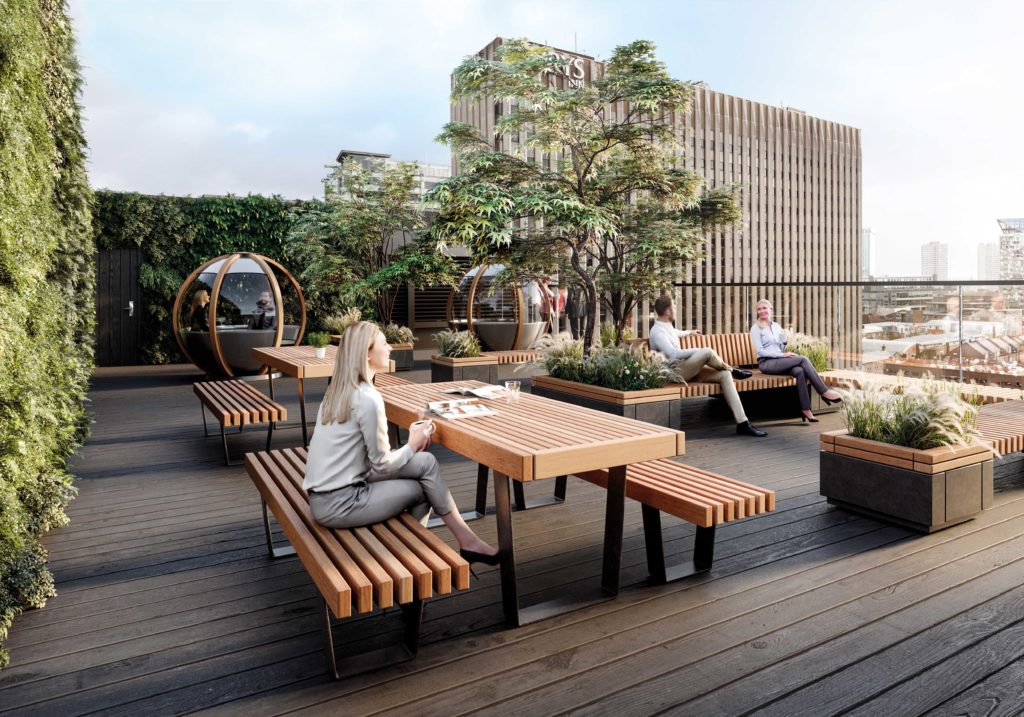 Project Update
Dec 16, 2021
How 10 Brindleyplace will achieve BREEAM Excellent
At the pre-construction assessment, the Venture team focused on planning so that the project could achieve its BREEAM goals. The principles of the project needed to be organised and designed accordingly.
During the construction phase, the Venture team focused on implementing the detailed construction plan, which enabled the project to gain BREEAM points for the following:
The appointment of Sustainability Champions at the design stage and during the monitoring process ensured ongoing compliance with the project's ESG criteria and targets. Life cycle assessments and elemental life cycle costs were calculated using BREEAM compliant methods.
The project team committed to meet relevant criteria relating to monitoring energy, water use, transport of materials to and from site and waste from site. During the project, 100% of construction waste was diverted from landfill, either to be reused on other projects or recycled.
The project design achieved BREEAM points for its indoor air quality plan, low carbon design, energy efficient lighting, safe walking paths to public transport hubs, the provision of cycling facilities, and efficient water consumption.
Following the implementation of an ecologist's recommendations, the ecological value of the site has been safeguarded, with effects on biodiversity minimised through a five-year landscape and habitat management plan, including a green roof, and planting in line with ecologists' recommendations.
Timber used in the redevelopment project was sourced in accordance with the UK government's timber procurement policy, which must be legally harvested and traded to ensure sustainability.
Project Update
Jan 3, 2022
Operational carbon efficiencies: 65% annual energy saving
The design of the redeveloped 10 Brindleyplace has drawn on thermal insulation, air tightness, glazing ratios and glass specifications to reduce heating and cooling demands, thereby saving energy, operational costs and carbon.
The saving in energy compared to running a typical office could run 177 homes for one year. In fact, the building will deliver a 65% annual energy saving compared to a typical office of equal size, equating to 658 tonnes of CO2 per year, or the same mass as 100 Bullring Bulls.
The EPC for 10 Brindleyplace is already in line with Government requirements for 2030.
The development has been designed with a 53% operational carbon reduction compared to pre-refurbishment. The need for gas and fossil-fuels has been removed, instead utilising all-electric heating, cooling and hot water systems. The system will be powered by renewable green energy, delivered in part by on-site solar PV, helping to reduce operational costs.
Mechanically ventilated via a central air system, the building will incorporate smart controls in occupier areas, which will have ceiling finishes, raised access floors and efficient lighting installed. The building will achieve WiredScore Platinum certification, supporting data connectivity and off-site server options, reducing onsite power demand.
In addition, smart building technologies will be deployed to provide real-time energy management using data from smart meters monitored via a digital twin. This will allow ongoing performance management, helping to maintain energy and operational cost reductions, as well as contactless lighting and the management of indoor air quality.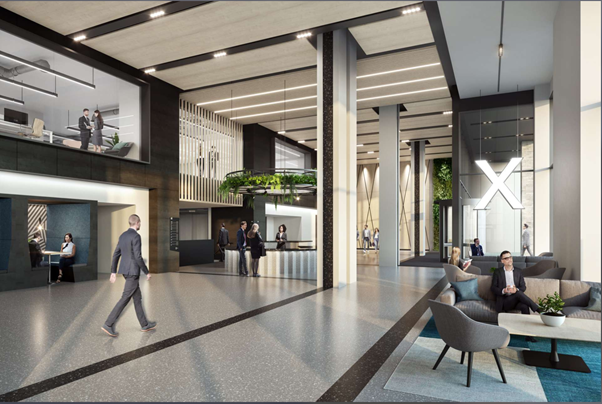 Project Update
Feb 8, 2022
10 Brindleyplace to hit Net Zero and a 60% embodied carbon reduction
The iconic 10 Brindleyplace is in the final stages of its reinvention. Managed with a strong emphasis on sustainable design, the redevelopment scheme will achieve BREEAM 'Excellent'.
The existing building foundation, basement and structural frame have been retained, which has enabled significant savings of almost 60% on embodied carbon, compared to creating a new development, according to a projected 60-year building life cycle assessment.
In managing the project, the Venture team tapped into the wealth of ESG expertise across the wider Workman business, with valuable Net Zero insight, contributing to the scheme's design, and ongoing operation.
At the earliest stage of the project, a Net Zero Asset Plan was carried out by the Workman ESG team, and a further NZAP will be carried out at the completion stage of the project to capture the as-built position.
Project Update
Apr 11, 2022
Flex office space on offer at 10 Brindleyplace
CBRE Investment Management partners with flexible space operator
Spacemade
at its £40m back-to-the-frame transformation of 10 Brindleyplace, Birmingham – project managed by the Venture Projects team.
The partnership is set to deliver 27,000 sq. ft of flexible workspace, with amenities including private studios and co-working space for more than 500 people, coffee shop plus roastery and a 2,000 sq. ft auditorium and event space.

Net-zero, BREEAM Excellent, Fitwell accredited, with terraces and green roofs, a bouldering wall, and all the amenities you could want, 10 Brindleyplace has been billed as 'The Building of the Future' and will be open this Summer 2022.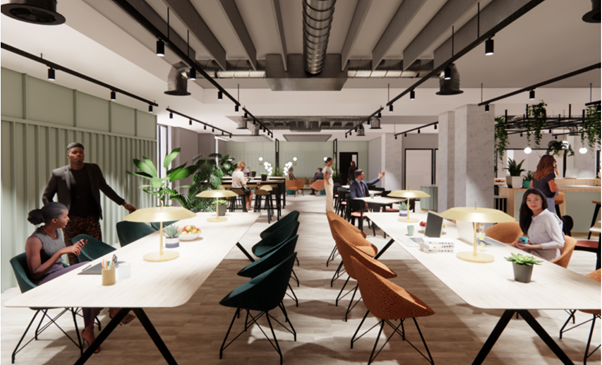 Project Update
May 24, 2022
The Venture Project team's work continues apace at 10 Brindleyplace, where the façade is being completely redesigned to improve it's identity, with a contemporary pale grey brick. New floor-to-ceiling windows and double height window openings will also allow more natural light to infiltrate the building.
The development is designed with a 53% carbon reduction compared to the pre-refurbishment, and has removed the need for fossil-fuels, utilising an all-electric heating and cooling system.
Occupier amenities will include fitness facilities including a fitness studio and bouldering wall, cycle storage for 100 bicycles, electric vehicle charging and two communal landscaped roof terraces.
Great work by the entire team including Willmott Dixon, Associated Architects LLP, Thamesis, RLF, Cundall, and Wintech, Façade Engineering Consultants.
Thank you for the video, created by Associated Architects LLP.
Watch the progress at 10 Brindleyplace here...