Venture, the new specialist project management service within Workman, has made exciting progress since its launch in September.
With 100 instructions now under the Venture brand and a £500m total contract value being delivered by our specialist sector teams, our combination of critical thinking and technical expertise is proving to be a valuable part of our clients' plans.
In creating Venture, we knew the combination of our practical hands-on style and unswerving ability to interrogate the brief would form the cornerstone of our offer. This has attracted significant recent instructions from a wide range of funds, institutions, investors and private equity organisations.
Venture is very much a cross-sector offer, with specialist teams focusing on office, logistics, living space and retail. Perhaps unsurprisingly, repurposing now forms a major component of our activity.
Individual project management instructions range in value up to £100m, with typical projects being £5m-£30m. Meanwhile, our development monitoring book is now approaching £1bn in construction value. Whether direct delivery or monitoring, our focus is firmly on understanding and aligning our approach to our clients' commercial priorities.
Having acted for leading investors including Columbia Threadneedle, Federated Hermes, CBRE Global Investors, KKR and Tristan Capital, amongst others, our project managers have a deep understanding of the investment drivers and a strong appreciation of the required institutional standards and risk profiles that apply.
ESG refurbishment and development arm driving the Net Zero agenda
We particularly excel at complex refurbishment and redevelopment projects involving existing buildings where sustainability is a major consideration. For example, our team is project managing the largest office refurbishment in Birmingham – the  210,000 sq. ft 10 Brindleyplace redevelopment for CBRE GI – where our ESG refurbishment and development arm is driving the Net Zero agenda that is so crucial to investors.
Our project pipeline reflects the shifting priorities of our investor clients, and the growing trend for investment diversification has driven the need to specialise.
The residential and student asset class now forms an increasingly significant component of investors' portfolios: we are currently advising clients on various residential schemes totalling £500m in value. The project management of a new build £16m student accommodation development in Southampton, which encompasses 245 beds, is a further example of our role in this expanding sector.
Similarly, our involvement in a 250,000 sq. ft logistics hub in Leamington Spa and a 500,000 sq. ft industrial development in the South West, reflects the continual growth in 'shed' interest from investors.
We are also supporting our clients who are looking beyond the UK for funding opportunities, currently providing client representative and development monitoring advice in Ireland, Spain, Germany, Netherlands and France.
Underpinning our advice throughout is our understanding of clients' ESG requirements, particularly in helping reach Net Zero targets: we regard this as the most significant real estate consideration for a generation. Hedley Jones, our recently appointed Head of ESG Refurbishment and Development, applies unique investment insight with technical expertise to navigate the Net Zero pathway throughout the project lifecycle. We recognise that debt sourcing and asset liquidity will increasingly be subject to strong Net Zero performance.
As we head into 2021, with so many assets needing to be retooled for alternative use, repurposing skills are essential as clients seek to invest in a progressively diverse range of assets, we're confident the Venture approach will continue to successfully deliver our clients' commercial goals.
By Nick Clark, Partner, Venture Project Management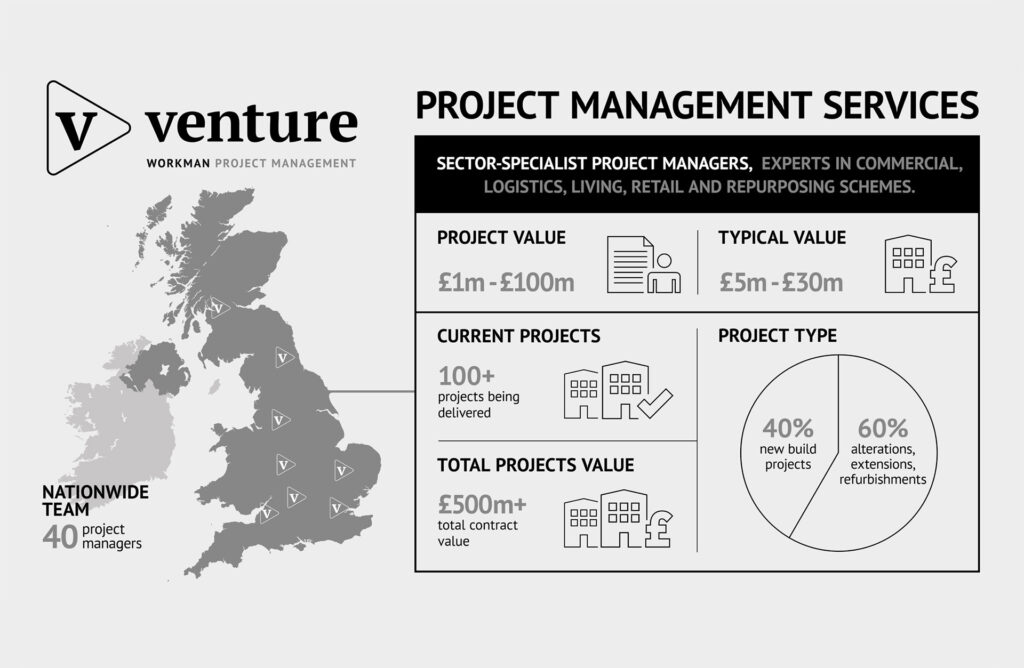 Read more on Venture's work here > Projects Archive – Venture (venture-projectmanagement.co.uk)
Read more about our intelligent building technology IBOS
Read more about our ESG services
Meet the Venture team here > https://bit.ly/3oBYQvM