Key Details
In Numbers
Duration: 2018-ongoing
Development value: £120m
Size: 300,000 sq. ft internal office space
The Collaborators
Building owner and developer: MEPC
Project manager: Venture Projects
Architect: Feilden Clegg Bradley Studios
Landscape architects: Grant Associates
Project Introduction
Status: Live
Progressive large-scale new development at Bristol's St Mary le Port will see three former bank buildings replaced with one nine-storey and two eight-storey office blocks, with independent retailers, plus food and beverage outlets, at ground level.
The project, driven by owner and developer MEPC Limited will also expand the park, restore the ruined St Mary le Port church tower, and reinstate three historic city centre streets that were lost during the Bristol Blitz of 1940. The scheme, designed by Feilden Clegg Bradley Studios, will also contribute towards public toilets and improved cycle lanes through Castle Park, one of Bristol's largest open green spaces.
Workman's Hedley Jones, Partner and Head of ESG, Refurbishment and Development has been acting as ESG Project Advisor for the scheme, collaborating with the project delivery team to ensure the project design maximises all possible opportunities to integrate ESG best practice.
The three new office buildings, which will cover more than 300,000 sq. ft of internal space, will target BREEAM Outstanding and Net Zero carbon in operation. The scheme will target WELL-Certified Platinum-rated buildings with many outdoor terraces, PVs on the roofs and improved biodiversity at all levels, with the aim to plant 60 new trees and create a Biodiversity Net Gain of at least 20%.
Project Update
May 9, 2018
Bristol City Council announces plans to reinstate historic St Mary le Port
After suffering heavy bombing and almost complete destruction in 1940, the road around St Mary le Port Church, which had been a key part of the city centre for centuries, was used temporarily as a car park.
The historic St Mary le Port site was then leased to the Bank of England and Norwich Union Insurance company for office buildings in the 1960s.
Today, these buildings have been derelict for many years, but in 2018, Bristol City Council announced intentions for the street to be reinstated, which developer MEPC Limited  is now bringing forward plans to do.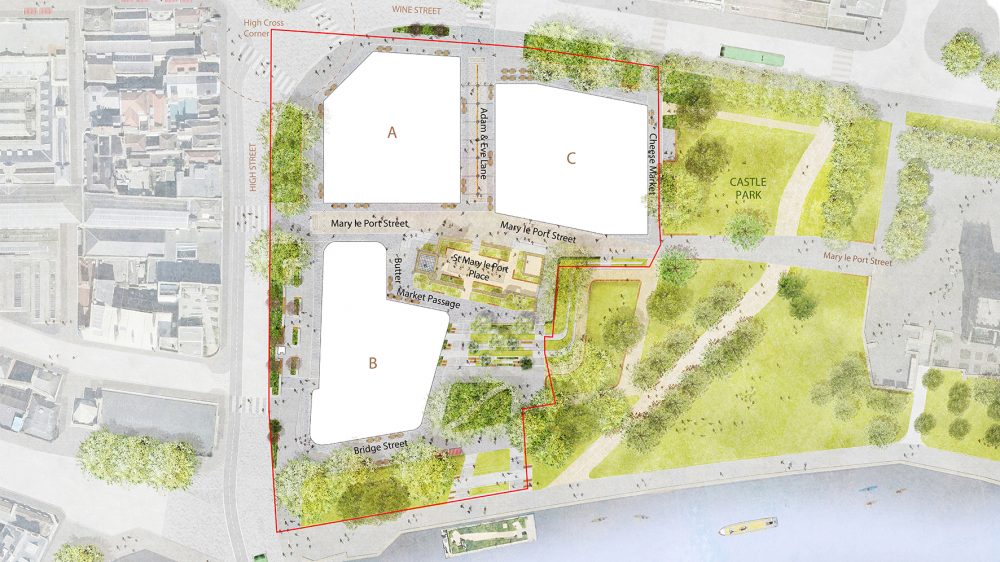 Project Update
Jun 27, 2020
Venture Projects gets to work
The Venture Projects team is brought on board to assist with plans for development of the St Mary le Port site, in the centre of Bristol.
There are several sensitivities to be considered in and around the site, including the Scheduled Ancient Monument of the St Mary Le Port Church ruins, the trees and Castle Park, which will need to be taken into account throughout the design, planning and consultation stages.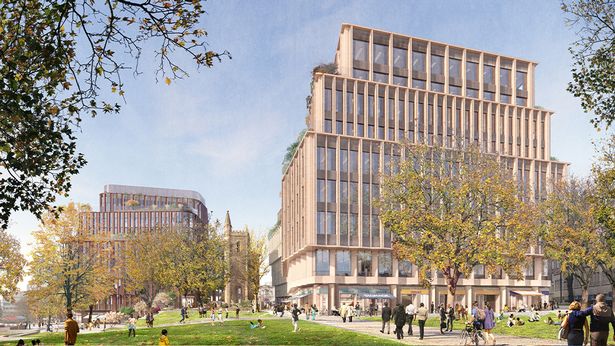 Project Update
Dec 20, 2021
Planning proposals for progressive and ambitious development of the St Mary le Port, Castle Park area of Bristol have been granted by the city's Council.
The plans have been developed over the past 18 months, with specialist input from the Venture Projects team.